'Phenomenal' success for Jersey's soup kitchen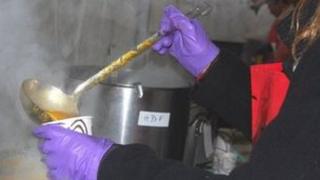 The organiser of the annual soup kitchen in Jersey's Royal Square said it has improved the image of the charity it raises money for.
The event is held in aid of the Shelter Trust for the Homeless and features soups from a number of island businesses and groups.
Soup Kitchen founder Michelle Cuthbert is stepping down after organising the event for the 13 years.
She said she never expected it to become as big as it is.
Restaurants from across the island, including ones with a Michelin star, join schools and even the States of Jersey kitchen in donating soups to the event.
The soups are then served to shoppers, workers and States members throughout the afternoon to raise money for the Shelter Trust.
Mrs Cuthbert said: "It has been phenomenal really, we never expected it to be anything like this.
"We have sponsorship, we have music throughout from the choirs and we even have a bagpipe player.
"The support is just phenomenal, last year we served over 4,000 portions of soup."
Soups include beef and barley broth from the L'Horizon hotel, white onion and pecorina from Bohemia and Scotch broth from Jersey College for Girls.
This year's event will start from 11:00 GMT.
The soups
La Capannina - Bean & pasta
Hotel L'Horizon - Beef & barley broth
Jersey Pottery - Beetroot, sour cream, horseradish
Longueville Manor - Blue pumpkin, pine nuts, parmesan
Old Court House Inn - Broccoli & potato
Mayfair Catering - Caldo verde (cabbage & chorizo)
Highlands - Carrot & coriander
Cafejac - Carrot & fresh ginger
Grand Jersey Hotel - Chestnut, blue cheese & bacon
Green Island Restaurant - Cream of cauliflower & cheddar
Ransom's Tea Rooms - Cream of wild mushroom
Shelter Trust - Cullen skink
States of Jersey - Curried vegetable, coconut & lime
Pomme D'Or Hotel - "Gills & Grills"
Greenhills - Hungarian goulash
Bento - Japanese chicken & vegetables
Suma's - Leek & potato with garlic
Radisson Blu - Lentil
Atlantic Hotel - Lobster bisque & sweetcorn
Cheffins - Moroccan spiced lamb & vegetables
La Cantina - Pasta, chicken, potato & sweetcorn
Hotel de France - Pea & ham hock
Merton Hotel - Polish split pea & smoked pork
The Boat House - Pumpkin
Pontac House Hotel - Pumpkin & watercress
Mange Tout - Red Thai chicken & sweet potato
Cafe Poste - Roast rich tomato & red pepper
Merchant House Brasserie - Roast tomato & garlic
Jersey College for Girls - Scotch broth
Restaurant de la Poste - Serbian bean soup
Corbiere Phare - Slovakian sour cabbage & chorizo
Government House - Spiced sweet potato & red pepper
Feast - Thai chicken
Sodexo - Thai vegetable
Bohemia - White onion & pecorino
Chateau La Chaire - White onion & thyme
The Royal Yacht - Winter root vegetable