New counter shows Jersey attractions visitor numbers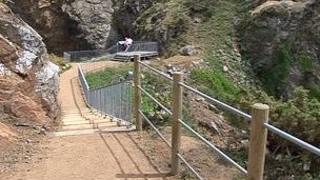 Equipment being trialled at a beauty spot in Jersey is being used to help gauge the popularity of the island's coastal attractions.
A counter set up on the pathway to Devil's Hole over the last two weeks of August showed there were more than 3,000 visitors during that time.
Celia Jeune, president of the National Trust for Jersey, said she was amazed by the number of people visiting it.
She said the data would help decide how much needed spending on maintenance.
Ms Jeune said she was surprised at how popular the attraction was as it was down a steep hill.
She said it would be useful to use the equipment elsewhere across the island.
"It's really very helpful to know where the most popular sites are and it gives us some ideas of the maintenance needs for the future," she said.
Ms Jeune added: "It is equipment that been loaned to us by the environment department so I think we're all very keen to know how many people enjoy our coastline."