Jersey's first woman rector Gerry Baudains starts role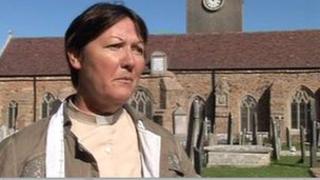 Jersey's first female rector, the Reverend Gerry Baudains, is to be formally instituted in the role at St Martin's Church.
A service will be held on Tuesday and will be attended by the Lieutenant Governor General Sir John McColl as the Queen's representative on the island.
Mrs Baudains was married in the church and her first child was baptised there.
She said: "For us as a family, it's like coming home, which is really lovely."
She added: "I'm a mother, a foster parent and I've been on the youth court panel.
"I have lots of skills and interests with young people and families.
"I hope and pray that I will be there for all of the people."