New study shows endangered birds in Jersey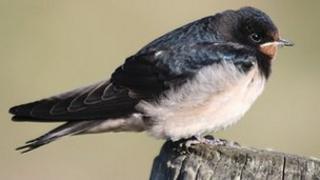 The birds in danger of dying out in Jersey are the subject of a new study.
For the first time a study has assessed the threat each breed faces.
Species including the puffin and the cuckoo are in real danger of extinction in Jersey and it is hoped this project will reverse their decline.
The study - by the Durrell Wildlife Conservation Trust, the Department of Environment and the Societe Jersiaise - took three months and collated information from the past 20 years.
The various species of birds have been divided into three sections - red, amber and green - according to the level of threat they face.
There are 33 species in the most endangered species red list, which includes the puffin and cuckoo.
There are 50 in the amber list, which have declined markedly, including the tufted duck and herring gull.
'Powerful tool'
And the green list of 52 species, which include the wood pigeon and blue tit, are still common and secure.
Durrell's Dr Glyn Young, one of the authors of the study, said: "Bird monitoring provides one of the most robust and globally-recognised methods for measuring changes in the state of biodiversity and the broader environment."
John Pinel, of the States of Jersey Environment Department, said: "This document provides a powerful tool with which to focus conservation efforts.
"It can be used for a variety of purposes, not least when justifying sites of special interest but also in considering the future development of the island."
Copies of the Conservation Status of Jersey's Birds study are available from Durrell.