Jersey Police: Friends must report drink-drivers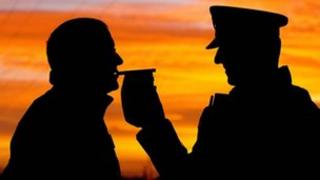 Jersey Police have urged people to report friends and relatives for drinking and driving this Christmas.
The theme of this year's Christmas drinking and driving campaign is "don't let them get away with it".
Police said people should discourage friends and family from drinking and driving but if they insist on doing so, they should report them.
Last Christmas seven crashes were caused by islanders driving while over the legal alcohol limit.
Peter Cropper, from Jersey Crimestoppers, said: "If, for any reason, you are uncomfortable about calling the police but may be concerned about a loved one's drink-driving habits, you can also call Crimestoppers anonymously."
Insp Diane Wheeler said officers would also focus on drivers who were over the limit the morning after drinking.
She said police would be doing breath tests during the day as well as at night.
She said: "People will jump into their cars and drive home or to work the morning after drinking, often unaware that the alcohol remains in their system and they are still over the legal limit to drive."
In 2010, 139 people were caught drinking and driving in Jersey. So far this year 158 people have been caught.
Insp Wheeler said: "The good news is that so far this year the number of crashes involving drink-drivers, 40, is the lowest in the last 10 years."