Gorilla sketch by former Durrell worker is auctioned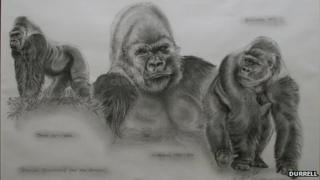 The retired head of mammals at Durrell is auctioning off a sketch.
Richard Johnstone Scott started his zookeeping career in Jersey in 1965 and retired this year.
He is a keen artist, and said he has often been inspired by the animals he knows and loves.
He has made a pencil and charcoal drawing called Silverbacks of Durrell, Past and Present which is being auctioned on eBay for the EAZA Ape Campaign.
'Life with gorillas'
The online auction ends at 21:30 GMT, and Mr Johnstone Scott is giving a presentation on Tuesday evening to coincide with the end of the auction.
He will give a talk called "Life with gorillas" at the Princess Royal Pavilion in the grounds of Durrell Wildlife Park.
He will be showing the film he has made of the three Durrell silverback gorillas, Jambo, Ya Kwanza and Badongo.
It also shows footage of gorillas in the wild and at other animal collections.
During his career, Mr Johnstone Scott spent 11 years in Kent working at Howletts Wild Animal Park before returning to Jersey in 1979.
He returned to care for Jambo, a silverback who fathered 14 offspring, and left a legacy of 64 grand offspring, 26 great grand offspring, and one great, great grand offspring.
Jambo is also famous for standing guard over a five-year old who fell into the gorilla enclosure in 1986.