Jersey heat loss map is launched by States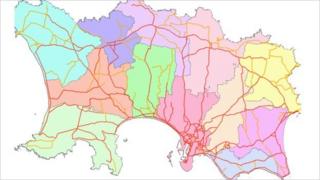 A map has been unveiled by Jersey's government to show the heat loss of island homes and businesses.
The States of Jersey Energy Efficiency Service worked on the map with the Jersey Climate Action Network and Jersey Electricity.
An aerial thermal image was taken of the island in early 2011, providing a snap shot of heat loss.
The data has been overlaid on to a Jersey map, providing an estimated heat loss measurement for each property.
Deputy Robert Duhamel, minister for the environment said: "We hope that it will encourage people to think about how much heat and energy their property is losing.
"Wasted energy is wasted money and it generates unnecessary carbon emissions."
Properties that have a high heat loss are shown in red, scaling down to those with the lowest heat loss in green.
In a statement, the environment department said: "The aim is to help you to decide whether you should consider increasing the insulation in your property.
"If you discover that your house is losing a lot of heat and wasting energy, the Energy Efficiency Service is challenging you to take action to improve it."
The Energy Efficiency Service is funded through £1m of States funding and a seed donation of £500,000 from Jersey Electricity.