Jersey's new Town Park gets private security at night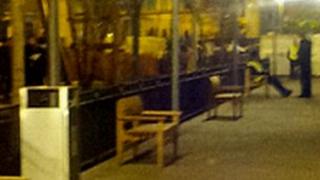 Public money is being used to pay for a private security firm to patrol Jersey's new Town Park at night.
Concerns have been raised by local residents about bullying and anti-social behaviour at the St Helier park.
Chris Sampson, from transport and technical services, said there had been some vandalism so security guards would patrol at night for two weeks.
He said: "We left it a few weeks to try and see if it would calm down but it hasn't happened."
Last week concerns were raised about children being bullied at the park's playground by older teenagers.
This week nearby residents said their lives were being made miserable by anti-social behaviour.
Mr Sampson added: "We're locking the public toilets and the ball courts from five o'clock and we've put some private security guards on there for a period just to try and prevent the anti-social behaviour which is happening after our staff have left."
He said the security guards would be there from 17:00 to 00:00 GMT every night for a fortnight, and the extra cost would come from within the existing budgets.