States of Jersey chooses panel and committee heads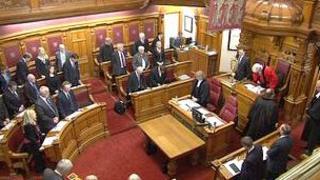 Three new members of the States have been elected to chair scrutiny panels in Jersey's government.
The Constable of St Helier was appointed chairman of the privileges and procedures committee.
There were no nominations for chair for the health, social security and housing panel, but newcomer Deputy Kristina Moore stood and was elected unopposed.
In the States on Tuesday, there were no challenges made for any of the five scrutiny panels.
Senator Sarah Ferguson got corporate services, new member Deputy Steve Luce is heading up economic affairs, with Deputy Jeremy Macon at education and home affairs.
Former planning civil servant Deputy John Young takes over at environment.
Although members have still got to appoint scrutiny panel members and assistant ministers, Jersey's government is taking shape, with nine ministers and the chairmen and women of the various panels now in place.
There was no place for Deputy Geoff Southern, who after six years of leading scrutiny reviews said he had had enough.
There was also no win for Deputy Trevor Pitman who had wanted to be education minister and chairman of the overseas aid commission. He lost out by a big margin to Senator Paul Routier.
Deputy Tracey Vallois was the only nomination for the public accounts committee, but there was an election for privileges and procedures.
Constable Julliette Gallichan was one vote behind St Helier Constable Simon Crowcroft in the four-way ballot for the role.
He proposed some radical ideas, including the return of States lunches, webcams in the States Chamber, pensions for States members and a way of limiting the amount of time spent debating things that had no hope of success.
The Constable also questioned why members needed to be in the States all the time.
On Thursday the States will decide who will serve on those panels and committees and the council of ministers will also begin announcing who will serve as assistant ministers will be announced.