Jersey's new Town Park 'unbearable' at night says resident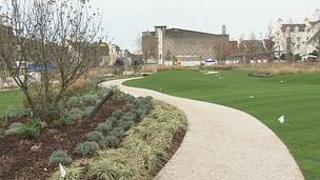 A woman living near Jersey's new Town Park says anti-social behaviour there at night has become "unbearable".
Louisa Jones, who lives opposite the park in St Helier, is calling for more security measures.
She describes the playground as "mecca for anti-social behaviour" after dark and wants it to be locked at night.
It comes less than a week after concerns were raised by parents about their children getting bullied in the new park.
She said it was nice to see the area being used in the day, but at night the noise and misuse of play equipment by young people had become stressful and upsetting.
She has written to the Constable of St Helier, Simon Crowcroft, asking him to address the issue and put in security measures.
In it she said: "We feel we have exhausted all other avenues in our concerns about... the wilful misuse of the play equipment by gangs of young teenagers."
Constable Crowcroft said he was in discussion with the honorary and States police and the parish's community support officers, and the youth service to look at monitoring the park.