Mozart serenade leaf on sale in Jersey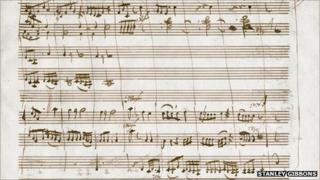 A rare handwritten leaf from a Mozart serenade is on display in Jersey.
The Jersey collectables company, Stanley Gibbons, has acquired the fragment of Mozart's Andante Grazioso from the Serenade in D Major.
The leaf is on display in the company's Hill Street office, and it is hoped it will sell for £150,000.
Investment director Keith Heddle said due to the composer's early death original handwritten manuscripts by Mozart were extremely scarce.
He said this was the first one his company had come across and he hoped it would go to someone who wanted to share it.
'Extremely prized'
The handwritten leaf features bars 40-53 from the Andante Grazioso (second movement) of Mozart's Serenade in D Major, K. 185 (Antretter).
The serenade and Mozart's Prague Symphony of 1786 were originally bound in one volume with the March in D Major, K. 189 (167b) by his father Leopold Mozart.
It was referred to as the Cranz Volume 1, but the manuscripts were separated in 1966 and sold at auction in 1975.
Since then the exact whereabouts of Antretter is unknown. The leaf on display in Jersey is one of only two known to survive from the second movement.
Mr Heddle said it was "extremely prized".
He added: "This must be one of the ultimate prizes for the privileged and cultured collector, with likely price appreciation also a key factor."
The leaf is on sale for outright purchase and is on display in Jersey until the end of the year, or until it is sold.
A spokeswoman for Stanley Gibbons said if it was not sold in Jersey, it might go on display in London or in the company's newly opened office in Hong Kong.