Seven Jersey drivers caught jumping red lights in hour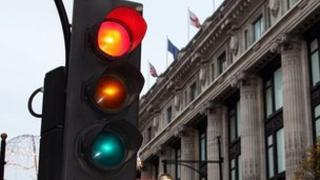 Seven drivers were caught jumping red lights in just one hour, the States of Jersey Police have said.
Police monitored the Gloucester Street junction in St Helier over two days.
Officers said they had received complaints about drivers ignoring red lights, putting motorists and pedestrians in danger.
Insp Diane Wheeler said: "Jumping red lights is an extremely dangerous practice and one that can lead to serious injury."
The police warned motorists to stick to traffic light rules after their assessment found a "worrying number" of offences.
Insp Wheeler said: "The traffic light system is there for a very good reason and we are warning motorists that we will be conducting ongoing operations over the coming weeks to target those drivers who continue to ignore the rules."