Bill Harris is the new boss at the St Helier lifeboat in Jersey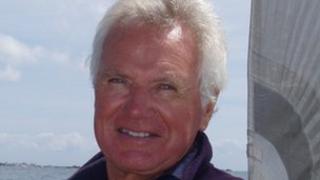 The new boss at St Helier lifeboat station has been announced.
Bill Harris, a retired electronics engineer, took up the volunteer position this month.
He will be in charge of the day-to-day running of the station and liaises with the Coastguard during emergency rescues.
He replaces Bob Vezier who has retired after many years at the RNLI, where he was also the coxswain of the St Helier lifeboat.
A crew member at St Helier lifeboat said: "We are sad to see Bob Vezier go and are grateful for his long and outstanding contribution.
"His successful handover to Bill Harris has meant that St Helier lifeboat has a new and highly capable member and we look forward to a long and successful relationship with our new manager."
Mr Harris has worked as a radio officer at Jersey Radio and spent 40 years as an electronics engineer at the airport.
Mr Harris said: "I have always known and respected the work of the volunteer lifeboat crew in Jersey.
"I am happy to put my experience and expertise to good use and be able to help the crew in saving lives at sea."