Jersey Pipe Band designs its own official tartan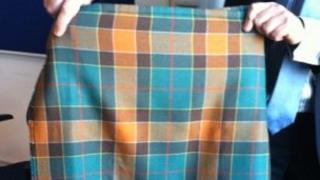 The Jersey Pipe Band has designed its own official tartan.
It was commissioned by Jim Vines, Ken Brawley and Gregor Allan of the band, which traditionally wore tartan that was either available or chosen by the Pipe Major.
They said they had taken inspiration from Jersey's cows, sea, sunsets and hedgerows to create the tartan, and took 18 months to design it.
It is being officially registered under the Scottish Register of Tartans.
Mr Allan said: "This is the first ever tartan with a Jersey connection and being ours is open to all who wish to have a tartan with a Jersey connection.
"The new tartan looks great and the hue of colours, which are muted and traditional, blend wonderfully and looks very smart indeed."
'Glint of orange'
The Jersey Pipe Band is more than 50 years old and many members are Jersey born.
Mr Brawley said: "There's no longer any need for the band to masquerade under a Scottish tartan name as this is a wholly original tartan."
Mr Vines said the main colours were "terracotta for the Jersey cow and soil, blue for the sea, yellow for the sand and rolling beaches, grey for the clouds and lovat green for the trees, woods and hedgerows and a glint of orange for the rising and setting sun".
He said he could understand that traditionalists would say tartan was exclusively for Scottish Highland families, but added there were strong trading and military history links between Scotland and Jersey that went back to the Battle of Jersey.
He said: "The Jersey Pipe Band tartan will surely be the start of a new chapter in the band's history."