Jersey building developer is 'optimistic'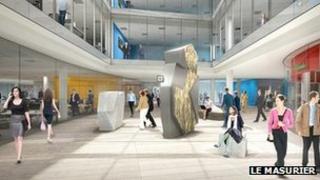 The owner of properties in Jersey's town centre is optimistic it will get the go ahead for a £150m office development.
Le Masurier wants to turn buildings on Broad Street and Commercial Street into offices for the finance industry.
It would include a glass walkway between the two roads running through the building.
The original plans were scaled down from eight storeys to six as planning officials said they were too big.
The Managing Director, Brian McCarthy, said it was the largest private development in Jersey and was competing with the proposed Esplanade Quarter.
He said they just need permission to build it.
Mr McCarthy said: "We are ready to go, it is £150m of private investment in Jersey and we are ready to make the commitment with confidence.
"What we need as the next step of the process is planning consent and we are confident we will get planning consent before Christmas."