Jersey fundraiser Bunny Roberts wins national award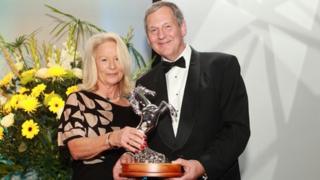 A Jersey fundraiser who has been honoured with a national award for her charity work says she aims to continue making a difference.
Bunny Roberts, the chair of the local branch of the Animal Health Trust, has raised more than £1m over the past 13 years.
She was presented with the Voluntary Service Award at the charity's UK Equestrian Awards ceremony in London.
She said: "It was a huge shock and I don't do charity work for awards."
Mrs Roberts said she could not have done it without help from islanders.
She said: "This award would not have happened if it had not been for the amazing support that I have got within this island, and I can't tell you how much I appreciate their support and forever I hope it will continue."
Dr Peter Webbon, Chief Executive of the Animal Health Trust, said: "Bunny's outstanding support has contributed so much to the [Animal Health Trust] over the years.
"This award only goes a small way to thanking her for her unfaltering commitment.
"She has helped us make a huge difference for animals in the UK, and across the world."