Jersey's Durrell wildlife park wins green tourism award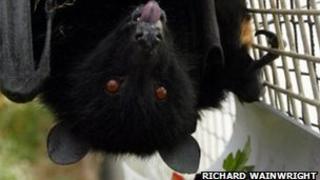 The living space of its fruit bats has helped to win Jersey's Durrell Wildlife Conservation Trust an award for environmentally-friendly tourism.
The conservation charity has achieved gold in the green tourism business scheme.
The scheme rewards environmentally friendly tourism attractions that have working practices caring for the planet and is validated by Visit Britain.
The roost for the Livingstone's Fruit Bats was praised during the assessment.
Jon Proctor, of Green Tourism, said: "Durrell Wildlife Conservation Trust operates an innovative wildlife park which cares for endangered species from the most threatened habitats in the world.
"It is an iconic attraction for Jersey and supports positive community activities from recycling to species conservation, including the red-billed chough and agile frog, both locally endangered."
Durrell site environmental co-ordinator Gordon Hunt said: "We are delighted to have achieved the Gold Award from Green Tourism."