Jersey chief minister makes rival assistant minister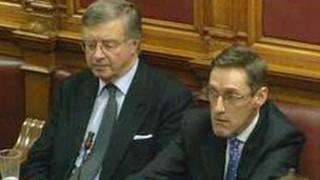 Jersey's new chief minister has offered his rival for the post a job as his assistant chief minister.
Senator Ian Gorst has announced his nominations for ministers which he hopes will be a blend of experience and talent.
The candidate who stood against him, Senator Sir Philip Bailhache, has agreed to be one of two assistant chief ministers.
The other is Senator Paul Routier, who has also accepted the role.
Senator Gorst beat Senator Bailhache to become Jersey's third chief minister by three votes - 27 to 24.
Senator Bailhache is Jersey's former Bailiff and topped the poll in the recent election, campaigning on electoral reform.
As part of his duties as assistant chief minister, Senator Gorst hopes Senator Bailhache will be able to become chairman of the new electoral commission.
However, that would require a change to the law and approval of the States of Jersey.
Senator Bailhache said during his speech to become chief minister that he would scrap the electoral commission if elected.
Senator Gorst said: "He will be helping me with our international relationships and I will also be asking the States to consider some changes to the electoral commission so Senator Bailhache can chair that together with independent members from the community.
"With a strong person like Senator Bailhache driving that reform forward we at last have a chance of seeing some reform."
Senator Gorst has nominated the States members he would most like to take on the nine ministerial offices. Any other States member can stand against Senator Gorst's nominees.
The States of Jersey will vote for the council of ministers on Thursday.