Jersey supermarkets' confusion over Sunday trading law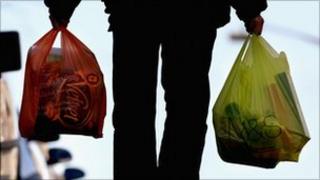 Supermarkets in Jersey say it is confusing why they cannot open every day in the run-up to Christmas.
Under new Sunday trading laws, it is up to the constables of each parish to decide which shops can open.
Constables have agreed to a blanket permit for shops to open the four Sundays before Christmas.
But the constables of St Brelade, St Helier, St Peter and St Saviour said supermarkets over 700sq m were only allowed to open on Sunday 18 December.
The Economic Development Minister, Senator Alan Maclean, said: "There are five occasions in the year where there can be an application from shops that are over 700sq m who can open, and indeed on this particular period any of the supermarkets could, if they so chose, apply to the constable for the ability to open."
'Obvious choice'
But Colin Macleod, the Chief Executive of the Channel Islands Co-operative Society, said: "I think if they are going to allow supermarkets to apply for five Sundays a year, then supermarkets ought to be able to choose which Sundays they apply to open.
"It appears that the run-up to Christmas would be a very obvious choice for retailers."
Senator Maclean said shops being able to open seven days a week should be a boost for shop owners struggling during "challenging trading conditions".
He said: "Previously the situation was that there were a whole range of complicated conditions applied to the types of products that could be sold on a Sunday, when we changed the Sunday trading legislation we sought to simplify it."
The permit to open includes the condition that where a shop is open on weekdays as well as Sunday, it must sell the same on Sundays as it does during the week.