BBC Jersey helps Children in Need fundraising effort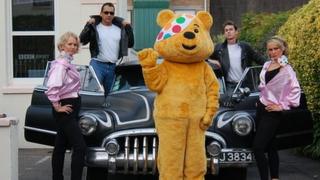 The BBC is celebrating 30 years in Jersey - and over that time islanders have raised hundreds of thousands of pounds to support Children in Need - many of whom have benefited here in Jersey.
This year BBC Radio Jersey held an auction for two tickets to the BBC Children in Need Rocks concert in Manchester.
Kitty Murphy from St Helier bid £2,010 for the concert featuring Lady Gaga, JLS, Coldplay, Ed Sheeran, Elbow, N Dubz, Hugh Laurie, Snow Patrol and Michael Buble.
On Tuesday 15 November, the BBC in Jersey hosted a gala screening of Grease at Cineworld.
About 200 islanders went along and helped raise more than £1,000 for Children in Need. That went up to nearly £1,800 when the sale of merchandising and donations were taken into account.
Fundraising
This year's Children in Need day is on Friday 18 November.
Pudsey will spend two days touring Jersey on 17 and 18 November visiting schools to meet the young fundraisers supporting the appeal.
He will be with BBC Radio Jersey presenters Chris Stone on Thursday and Kevin Pamplin on Friday.
And BBC Radio Jersey's Murray Norton and Phil Taylor will be out and about dropping in at offices, shops and workplaces raising money for BBC Children in Need.
Also on the day itself, BBC Radio Jersey's Breakfast Show with Chris Stone is broadcasting live from the Broad Street Cafe, opposite the Post Office, from 07:00 to 10:00 GMT.
Let us know about your fundraising by filling in this form.
Jersey fundraising
On Friday 18 November Sally-Ann Chalker is doing a row-a-thon at Fitness First on the St Helier Waterfront between 08:00-20:00 GMT.
On Friday Victoria College prep are holding a non uniform day with spotty Pound coins to fill pudsey and a guess the name of the bear competition.
The children at La Petite Ecole Nursery at Fort Regent are wearing their pyjamas and bringing their teddies to nursery for the day
Alison Baker and the staff from Hallmark Cards in King Street are wearing fancy dress for the day
Members of the Georgetown Methodist Church are coming together to raise money for Children in Need
La Pouquelaye Youth Club have been making cupcakes and have already raised over £180
Maternity Staff at the General Hospital are holding a cake sale from 09:00 GMT on Friday in the foyer of the Hospital in The Parade
Jumping Beans at Trinity Youth Centre are having four special parties for pre-school children on Friday morning
Staff from Feel Unique in Miladi Parade, Longueville, St Saviour are dressing in their pyjamas, wearing their hair in bunches and selling cakes
Victoria College Prep School are having a "Spotty Day" - not having to wear uniform and they get to bring their teddies to school
Park Personnel in Hill Street staff are having a cake bake
Sanne Group in Castle Street staff are holding a cake sale
Janvrin primary school children are coming dressed in spotty clothes