Jersey's warship HMS Iron Duke visits island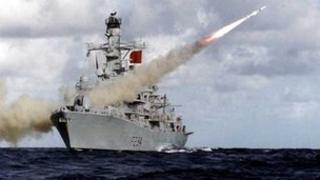 Jersey's warship, HMS Iron Duke, is visiting the island for the first time.
The warship has recently returned from active service in the Persian Gulf and off Libya.
The ship, which has also been tackling drug smuggling, was formally affiliated with the island at the 2010 Jersey Boat Show.
It will signal its arrival at 10:30 GMT on Thursday with a 15-gun salute and will be berthed at Elizabeth Harbour, St Helier, until Sunday.
The 133m, 4,900 tonne, modern frigate will be open to the public from 10:00 to 16:00 GMT on Saturday.
Commander Nick Cooke-Priest said: "We regard this new affiliation as an important commitment to the people of the area and an ideal opportunity to raise awareness of the Royal Navy, its capabilities, commitments and responsibilities, and to show the community how we live and function at sea.
"I am certain this visit will herald the start of many such occasions in the future and I am looking forward to fostering what promises to be a very rewarding relationship between HMS Iron Duke and the people of Jersey."