Concerns over bullying at Jersey's Millennium Town Park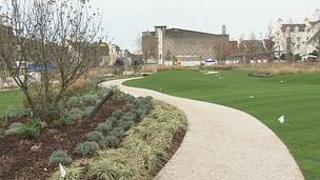 Jersey's new Town Park is to be monitored after claims that children are being bullied by teenagers.
Some mothers have posted their concerns on Facebook about their children being intimidated by teenagers gathering at the park.
Two 10-year-old boys have written to the Constable of St Helier about it.
Simon Crowcroft said he had been contacted by neighbours who said the behaviour and noise at night was unacceptable.
He said: "We are already in discussions with the honorary police and the States of Jersey police and with the parish's own community support officers, and the youth service.
'Hug the rides'
"So there are a number of different agencies who will I'm sure make sure in the short-term we monitor and we do our best to make sure the park works and doesn't give bad memories to any children."
Grandmother Rose Pestana said millions of pounds had been spent on the area and it was being spoilt by a minority of young people.
She said: "We've seen some of the children being pulled off the rides so the big ones can go on and some hug the rides so the little ones can't go on them."
The States of Jersey police said they had had no complaints of violence.
But they said they had received complaints about young people gathering there and skateboarders.
John Cornwall, a senior youth worker, said it was inevitable that a busy town park would experience some friction between children.