Terry Le Sueur unveils sculpture in final act as chief minister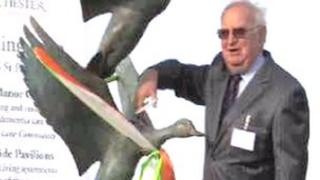 Jersey's outgoing chief minister has unveiled a sculpture of ducks in flight on the airport roundabout as his final act of office.
The statue has been moved to the roundabout after being removed from the airport departure lounge in 2009.
Terry Le Sueur unveiled the relocated statue, called Decollage, at 11:15 GMT, just hours before States Members elect a new leader.
He said he was honoured to be invited to unveil the statue.
The former senator said: "I am very pleased to have this last opportunity and to see this statue back by the airport.
"I am pleased that they can now be seen by everybody, and I am delighted to welcome the sculpture back.
"I'm going down to see my staff and say goodbye to them, then I have to do some tidying up in preparation for whatever I do next."
Mr Le Sueur did not seek re-election when his six-year term expired and has now retired from politics.
Mr Le Sueur will be on BBC Radio Jersey's Ask the Chief with presenter Roger Bara on Wednesday from 09:00 GMT taking calls about his time in office.