Senator Ian Gorst is Jersey's new chief minister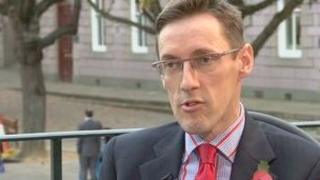 Senator Ian Gorst has been elected as Jersey's new chief minister with 27 votes in Jersey's first open ballot.
He beat Senator Sir Philip Bailhache by three votes, making him Jersey's third chief minister, taking over from Terry le Sueur.
The two candidates each spoke for 10 minutes to try and convince members to vote for them.
Each candidate then took questions from States members for 40 minutes while the other candidate was out of the chamber.
There were a range of questions on everything from mains drains to the historical abuse inquiry.
Both candidates were asked who they would nominate as their treasury minister and Senator Gorst said he would nominate either Senator Ian Le Marquand or Deputy John le Fondre as treasury minister but would not confirm until Thursday.
The States will return on Thursday to choose ministers and a committee chairmen.
BBC Jersey's political reporter Chris Rayner said: "For the first time we have had an election which gives the successful candidate a public mandate.
"The first chief minister, former Senator Frank Walker, was half way through his six-year term when he became chief minister. The same for Senator Terry le Sueur."