'Hugely important' to remember war heroes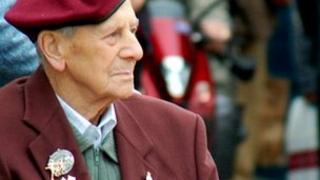 The vice chairman of Jersey's Royal British Legion has said it is "hugely important" people still remember war heroes on Armistice Day.
There was a service at the Cenotaph in St Helier at 11:00 GMT on Friday.
Deputy Colin Egre said the 11th hour of the 11th day of the 11th month was a time to pay tribute to past and present soldiers.
But he said it was not just fallen soldiers people should be thinking of on Armistice Day.
Deputy Egre said: "Not only should we be remembering those people who have died, but also those people who have been maimed.
"With modern battlefield medical facilities that are available, lots of people survive with horrific injuries.
"These are real heroes, these are people struggling to survive and we must remember and support them."