Two poll toppers stand for Jersey's Chief Minister role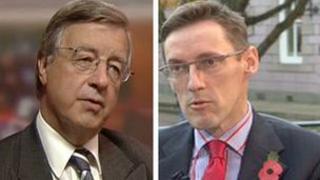 Jersey's new chief minister will be one of the two candidates who topped the senatorial poll in last month's elections.
Politicians had until midnight on Wednesday to declare that they wanted to stand for the top job.
Senators-elect Sir Philip Bailhache and Ian Gorst are the only two people to have put themselves forward.
The new house is to be sworn in on Monday and their first job will be to elect the chief minister.
The former Bailiff, Sir Philip Bailhache's nominations included politicians Senator Alan Maclean, Deputy Sean Power and the Constables of St Helier, Grouville and Trinity, and new members Susan Pinel, Steve Luce and Lyndon Farnham.
Deputy Ian Gorst's nominations came from Senator Ian Le Marquand, Senator Paul Routier, Senator Francis Le Gresley, Deputy Andrew Green and the Constables of St Mary and St Lawrence.
This year for the first time people will be able to know which politicians have voted for Jersey's next chief minister, after a change in the law was agreed in the States last week.