Abuse victims being forgotten, says Home Affairs Minister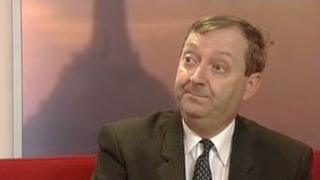 Too much focus on the way Jersey police handled the historical abuse inquiry means the victims are being forgotten, says the Home Affairs Minister.
A panel of politicians has reviewed the accountants' report into the inquiry.
The review criticises the media coverage of the BDO Alto report into the financial handling of the inquiry.
Senator Ian Le Marquand said: "It's unfortunate this detracts from the most serious issue that there was child abuse at children's' homes."
"No dog's life for handler with luxury hotel lifestyle", "Hot on the trail of top London restaurants" and "Celebrity lifestyle of Lenny Harper and his officers", were all headlines following the publishing of BDO Alto's report last year.
Deputy Trevor Pitman, who headed the Education and Home Affairs Sub Panel, said the press coverage was very negative and gave a poor impression of Jersey's police force.
'Flawed'
He said the scrutiny review was needed because Lenny Harper, the senior investigating officer in the historical abuse inquiry, was not interviewed in the course of the BDO Alto review or given the chance to respond to the findings.
Deputy Pitman said: "This raised serious questions regarding the objectivity and independence of the report."
But he said the review found it was largely beyond BDO Alto's control because of the way the report was commissioned.
He said there was "a conflict between their review and the disciplinary enquiry being conducted by the Wiltshire Police at the same time and the circumstances under which assistance was provided to them by the States of Jersey Police".
"The crucial fact is that BDO Alto was blocked from interviewing Lenny Harper and for this reason we believe that their review was incomplete and flawed.
"Aside from this fundamental point, which we believe should have been addressed by those who commissioned the review, our conclusions do not criticise the way BDO Alto conducted the review which they had been commissioned to undertake," he said.