Scottish zoo wants mate for black stork found in Jersey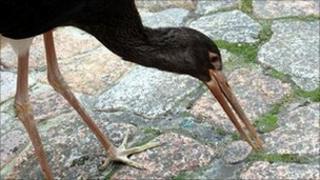 An injured bird that was rescued in Jersey will help contribute to the captive population of black storks.
Max fell out of the sky during migration in 2010 and was found with a broken wing in Mourier Valley.
He was then sent to Edinburgh Zoo for specialist treatment and bird keeper Nick Dowling said he was very popular.
He said they were hoping to find a mate for Max because as a wild caught bird his genes were very important.
The zoo named the stork Max after vet Max Allen who put the bird's wing in a splint when he was first rescued.
The young stork was found in August 2010 and was thought to have been migrating when he was injured in strong winds. He was the first stork spotted in Jersey in 20 years.
Mr Dowling said: "He has really settled in well, he is a hit with the keepers, he is quite mischievous but everyone is really fond of him."