Political group calls for demolition of Fort Regent pool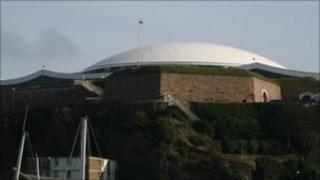 The old swimming pool at Fort Regent should be demolished according to a group looking into its future.
An action plan has been drawn up to develop the site by the Fort Regent Political Steering Group that includes developing areas for housing.
The group said too many islanders were unaware of what was on offer at the site so there needed to be more signs.
They also said the centre should have its own website instead of having a section of the States of Jersey site.
The group responsible for preserving Jersey's history, the Societe Jersiaise, wants any plans implemented sensitively.
Historian Frank Falle said Jersey was the only place in Europe which had so many military fortifications and believes they needed to be preserved for the future.
The Fort Regent Steering Group said as well as housing areas on the site, it should be preserved for tourism and heritage.
Fort Regent was built as a military fortress and was completed in 1814.
The swimming pool was first built in 1971 but was later closed when the Aquasplash centre on the St Helier waterfront was opened in 2003.