Treasury Minister Philip Ozouf not standing for top job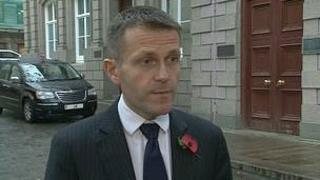 Jersey's Treasury Minister Senator Philip Ozouf has told the BBC he will not be standing for chief minister.
The new States members, voted in at the elections in October, will be sworn in next week and the first job of the new house will be to elect a chief minister.
Senators-elect Ian Gorst and Sir Philip Bailhache are the only politicians to confirm they are running.
Senator Ozouf said he would not stand because it was not what voters wanted.
The senator said the past three years had been extremely difficult as treasury minister.
'Tough decisions'
He said: "It's important that the chief minister commands public support and I understand that as a result of the very difficult measures that I've asked islanders to accept that the support has not been fulsome for me.
"I think it's important that the chief minister does have a recent mandate, it's not my issue that I haven't been able to stand in public elections, but I haven't like Senator Le Marquand."
Home Affairs minister Senator Ian Le Marquand had originally said he would stand for chief minister but withdrew earlier this week.
Senator Le Marquand said the support he had had in the summer "melted away" when Sir Philip Bailhache and Ian Gorst declared their intention to run.
Senator Ozouf said he thought there was more work to be done in terms of treasury.
He said: "We've done an enormous amount in the last few years, we've restored public finances and we've put things back on a sound footing.
"We have significant problems ahead and it's going to need somebody of experience that has weathered some difficult storms and is capable of taking some tough decisions but also reforming the public sector."