Concerns over gill-nets 'cutting Jersey fish stocks'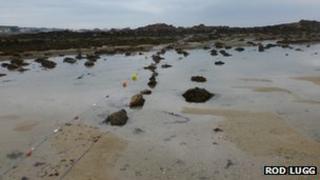 Three recreational fishermen who attended the Jersey Bass Festival have told the BBC they are concerned gill-netting is depleting fish stocks.
The nets, which catch fish coming in to feed on a rising tide, must be laid below the half-tide line and among the rocks.
But it was thought some people may not be complying with those rules.
Jersey's fisheries panel is due to discuss the issue at its next panel meeting.
Rod Lugg from Bristol, who came to the island for the festival, said he would like to see the gill-nets banned completely.
He said regular visitors to the Jersey Bass Festival would not return if the practice continued to reduce the fish population.
'Inhibiting the island'
Jersey recreational fisherman Peter Gosselin has raised the matter with the authorities.
He said: "It needs to be investigated, quantified, and controls set in place so that everybody has a share of the resource.
"At the moment those with the most time or the most money could set virtually whatever they want and they are cutting the resource off and of course they are inhibiting the island from earning large amounts of money from tourism."
But Mike Smith, Jersey Fisheries and Marine Resources Section Leader, said as with many other shore-based fishing activities, it was not necessary to hold a licence in order to sell fish caught in nets set from the shore.
He said commercial boat fishermen have previously offered to work with the angling organisations to avoid setting nets close inshore in areas used by anglers during fishing festivals.