Jersey's Stuart Syvret loses appeal against prison sentence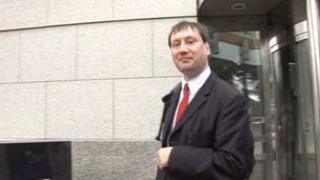 The former health minister Stuart Syvret has lost his appeal against his prison sentence.
The former senator was jailed last Wednesday for eight weeks for failing to do his community service.
Commissioner Sir Christopher Pitchers heard his appeal in Jersey's Royal Court on Monday.
Syvret took the opportunity to argue he was justified in leaving Jersey during a previous court case, which led to his conviction for contempt of court.
But Commissioner Pitchers rejected his argument.
He said the Magistrate Bridget Shaw had no option but to give him an eight-week prison sentence when he refused to do his community service.
Commissioner Pitchers also rejected that Syvret was too unwell to do his community service, saying he had been fit enough to fight an election campaign and could easily have done the work.
He said Syvret had brought himself to this position and rejected his appeal.
'Entrenched oligarchy'
Syvret returned to prison, but said he would try to bring another appeal based on unlawful detention back to the court.
Meanwhile on Friday, the UK Lib Dem MP John Hemming tabled a Commons motion, accusing the island's legislature, executive and judiciary of "political repression".
He is urging the UK Government to order an investigation into the running of Jersey's public authorities.
The MP is claiming that "ordinary people" on the island are being "oppressed" by what he calls "an entrenched oligarchy".
In his motion he said there had been "political repression of former Chief Police Officer, Graham Power and former senator Stuart Syvret".
He is calling for action to be taken to ensure that European Human Rights laws are enforced in Jersey.
But Jersey's Chief Minister, Senator Terry Le Sueur, said in a statement: "Mr Syvret is able to exercise a right of appeal because Jersey's judicial system is compliant with the European Convention of Human Rights."