Three 'lucky to be alive' after car cliff fall in Jersey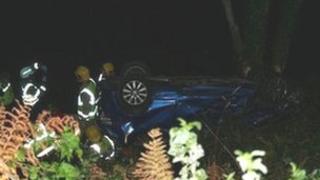 Three young people are "lucky to be alive" after their car went over a cliff in St Martin, Jersey.
The car left the road between Archirondel and Anne Port, fell about 60ft and came to rest against a tree, stopping it from plunging onto rocks.
Three young people were injured in the incident on Friday night.
Edward Pinot, who removed the car from the cliff, said: "It's quite a spectacular accident and the occupants are extremely lucky to get out alive."
The driver escaped with a broken wrist but the two passengers were still at Jersey's General Hospital being treated for injuries.
A similar incident happened in December last year. A car went over the cliff near Archirondel after skidding on ice on the road. The driver had very slight injuries and was able to walk away after the crash.
Graham Holloway, who lives nearby, called for drivers to slow down.
He said: "It's happened four times that I know of in the last few years. Someone is going to get killed unless someone does something about the speeding down this road."