Three injured in Jersey car cliff fall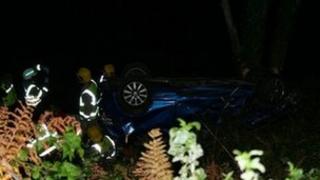 Three young people were injured when their car fell about 60ft (18m) over cliffs in Jersey.
The car left the road between Archirondel and Anne Port and came to rest against a tree, stopping it from plunging over a sea wall onto rocks.
The driver escaped with a broken wrist, but the two passengers have more serious injuries and all are being treated at Jersey General Hospital.
The accident is the second of its type on the road in less than a year.