Jersey Rugby coach wants a new sports centre for Jersey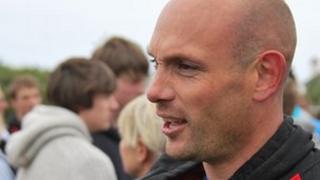 There is a call for a £3m sports centre to be built to support Jersey's top sportsmen and women.
Jersey Rugby Club's head coach Ben Harvey said there needed to be more investment in facilities for elite athletes and players.
He is working on plans for a development which he said could be built behind the rugby club at St Peter.
Gymnastics, football and hockey would all be supported under his plans.
Mr Harvey wants backing from the States and local businessmen for the project.
He said: "I'm very keen to try and push on... and build a really good facility somewhere on the island.
"We'd like it to be up here [at the Rugby club] not only because we'd generally benefit from it, it's just that we've got the space and it can cover a multitude of sports and give every single kid an opportunity to fulfil a talent and make sure no one slips through the net."