Jersey parks to be watered in Autumn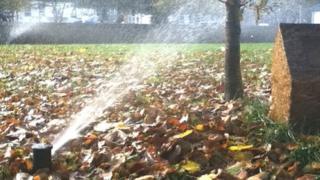 A lack of rain means Jersey's parks have been watered in the autumn for the first time in several years.
In October there was less than half of the expected amount of rain in Jersey and Jersey Water had to turn on the desalination plant.
Tony Andrews who works for the Parish of St Helier said it used water collected underground to keep the flowerbeds and grass green.
He said the authorities tried not to use mains water.
Mr Andrews said: "At the depot we have a huge water tank that collects rain water all year round.
"We use that to wash the refuse vehicles and the other fleet vehicles. Anything you can do to help collect water is useful."
Mr Andrews said the parish used up to 20,000 litres of water on a busy week which is partly from collected rain water and boreholes.
The only mains water St Helier use in the depot is for hand washing and in the toilets.
"This is one of the first years we have had to go out and water Parade Gardens in a long time but it is all borehole water, not mains water," he said.