Stuart Syvret jailed after community service breach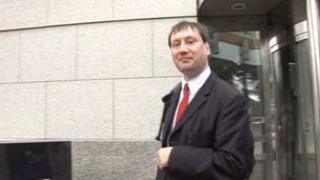 A former Jersey politician has been jailed for eight weeks after failing to do any community service.
Jersey magistrate Bridget Shaw asked Stuart Syvret, 45, if he would keep to the community service if offered it again and he said "as best as I can".
The probation service told the magistrate he had failed to keep all of his community service appointments.
She re-sentenced Syvret to eight weeks in prison for his contempt of court offence. Syvret said he would appeal.
'Unfit to work'
Syvret lost his appeal in the Royal Court in August against a contempt of court conviction and was sentenced to 80 hours' community service.
The Jersey Probation Service said he had failed to keep his appointments to discuss arrangements for the service and had not undertaken a single hour of it.
Probation officer Andrew Marek said he did not feel confident Syvret's behaviour had shown that he would fulfil a community service order.
Syvret had given probation officials medical notes stating he was unfit to work.
The magistrate found this unacceptable as he had, at the same time, put himself forward as a candidate for public office in the recent elections.