Jersey school's low GCSE grades revealed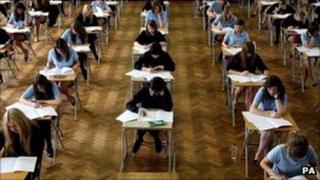 A Jersey secondary school's GCSE results would be the third worst in England and Wales if it was included in league tables.
Grainville school saw 13% of pupils gain five A* to C GCSEs including English and maths in 2011.
A breakdown of results has been published at the request of Education Minister James Reed.
Director of Education Mario Lundy said Grainville school was "heading in the right direction".
Jersey does not participate in the league table system in England and Wales.
Grainville head teacher, John McGuinness, said the fact the school had a high percentage of pupils with special needs and from homes with English as a second language would have an impact on results.
Island average
The island average was 58% of pupils getting five A* to C GCSEs, which compares to a UK average of 53%.
A Freedom of Information request revealed in February that state secondary schools in Jersey performed worse at GCSEs than almost all UK schools.
Another States-run school, Haute Vallee, saw just 18% of pupils get 5 A* to C GCSEs, which was down from 20% in 2010.
Le Rocqieur school stayed the same with 28% of pupils getting the recommended grades.
Director of Education, Mario Lundy, said it was not fair to highlight one result out of context and that GCSE results were just one indicator of a school's performance.
He said: "You don't turn schools around overnight. [Grainville] is heading in the right direction, it is a strong school, it deserves challenge and gets challenge but it also needs support.
'Highly selective'
When the figures were released in February Deputy Reed said the low grades were down to Jersey's "highly selective" education system.
Jersey has four state-run secondary schools as well as two single sex fee-paying grammar schools (Jersey College for Girls and Victoria College), two Catholic private schools (Beaulieu and De La Salle) and a post-14 selective grammar school (Hautlieu).
Victoria College has not published its A* to C GCSE results including English and maths.
Deputy Reed declined to comment on the latest results.