Jersey's town centre is 'keeping its character'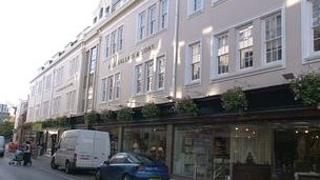 Jersey's main shopping area is keeping its character despite a growing number of UK brands, according to the town centre manager.
Richard Mackenzie said a vibrant high street needs a mix of independent and chain stores.
His comments come as Jersey furniture shop F Le Gallais and Sons Limited announced it would close later this year, after more than 100 years of trading in Bath Street.
Six people will lose their jobs.
A branch of the UK toy shop chain, Entertainer, will open in its place next year.
Mr Mackenzie said the town centre would continue to change to meet the needs of shoppers.
He said: "Whilst I love the old buildings, and the old shops, and they evoke loads of memories, if it's not what people want, we're not doing our job in the town centre by providing the service that people want.
"There needs to be a balance between UK chains and independent shops, and old shops and new shops.
"There is always the ability to maintain the character of the shop but utilise it with something that is more in keeping with what is needed now."