Services veterans need more support from Jersey's States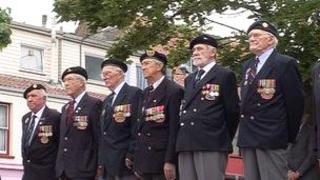 The States should offer more support to armed forces members when they return from active service, the head of the Royal British Legion in Jersey said.
Ken Soar wants injured ex-servicemen and women to get priority for medical treatment.
He said an informal agreement existed with the States but it should be made official.
Mr Soar also said they should not have to start at the bottom of the housing ladder when they return from service.
Under Jersey's Housing law, people need to live in the island for 10 years to gain residential qualifications.
But if they leave Jersey for more than five years, they automatically lose their residential status.
Poppy Appeal
He said: "This year we will be going to the States and saying that we will be looking for some sort of formalisation on the laws, the way in which veterans are treated through our health systems and things like that."
He added: "In America the ex-serviceman is well well looked after, unfortunately it is not the same in the UK and it is not the same in Jersey, and we want to take that forward and actually push for more support for injured ex-servicemen."
Mr Soar said: "I don't know if people realise just how many ex-servicemen there are in this island, we reckon there's anywhere between three and five thousand in Jersey.
"An awful lot of them have needs, a lot of them find themselves without support, without monies, a lot of them have freshly come out of the services and need an awful lot of assistance," he said.
The Royal British Legion launched the Poppy Appeal in Jersey on Sunday.
At the launch, Jersey's Lieutenant Governor has spoken of his own experience of loss.
As a serving soldier in many recent conflicts, General Sir John McColl had to deal with the loss of soldiers under his command.