Electronic instant tickets on sale for Jersey lottery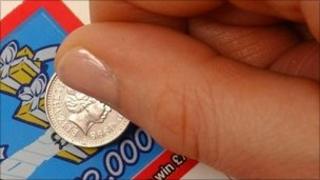 New electronic tickets for the Channel Islands Lottery have gone on sale in Jersey.
Players insert money into a terminal, select their choice of lottery ticket images, "scratch" the ticket on the screen and collect a receipt.
Electronic instant ticket (EIT) terminals have been installed at the airport, ferry port, pubs, hotels and shops throughout the island.
However lottery tickets will still be available over the counter.
The EIT system is managed by Global Draw, a subsidiary of Scientific Games Corporation.
Daily monitoring
The States of Jersey said the instant ticket terminals would provide more opportunities for people to take part in the lottery, thereby offering the potential to increase the money raised for Jersey charities.
Economic Development Minister Alan Maclean was the first person to use the EIT dispenser in the St Helier Co-Op store.
Jersey is currently the only Channel Island with legislation to allow the sale of electronic instant tickets.
The EIT terminals are networked to a central system and it is claimed that daily monitoring and reporting will ensure sales of the lottery tickets will be accounted for more effectively.