Seal pup rescued from rocks at Corbiere in Jersey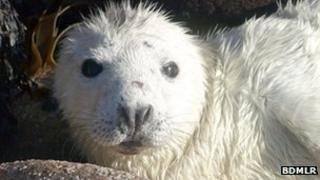 A lone baby grey seal who was rescued from the rocks at Corbiere in Jersey will be flown to the UK on Friday.
The pup, who has been named Barnacle was less than a week old when he was spotted by painters at the lighthouse.
Donna de Gruchy, British Divers Marine Life Rescue's Jersey co-ordinator, said he was too young to swim and should have still been in his mother's care.
She said he was in good health apart from some light grazing on his head, chin and front flipper.
When his mother failed to show rescuers took him to a local vet.
Ian Cox, from New Era veterinary practice where the pup was taken, said: "It is a very young pup and that's why it's got the white fur.
"It tends to be when there's quite stormy weather the pups will get into trouble and they do get very tired, very hungry and very dehydrated and they just wouldn't survive without assistance."
Barnacle is being flown to RSPCA West Hatch in Somerset on Friday. He will be raised there until he is old enough and strong enough to be released back into the wild, Ms de Gruchy said.