Silverback gorilla at Jersey wildlife park mates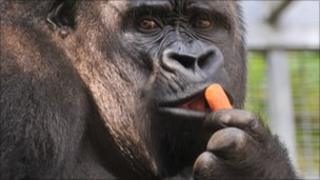 Keepers at Jersey's Durrell Wildlife Park say new silverback gorilla Badongo is settling in well and has already mated.
Badongo, 12, arrived in July to replace Ya Kwanza, who is now in a bachelor colony in a French zoo.
He left because he failed to breed for eight years, but gorilla keeper John Stark is confident the new male is up to the job.
Mr Stark said he hoped Badongo learnt from his father, who had 11 children.
He said: "His father is a very impressive silverback, he seemed to do all the right things, he had 11 offspring.
"He has watched his dad mate with the group, protect all the females and hopefully he has learnt a lot from him."