Jersey fishermen threaten to protest in Guernsey waters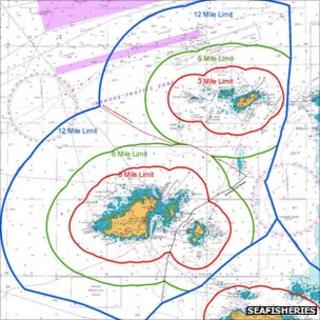 Jersey fishermen are threatening to protest in St Peter Port over concerns they will not get licences under a new fisheries agreement.
At the moment there is a three-mile protection limit around Guernsey, but the island has agreed a deal with the UK to extend it to 12 miles.
Don Thompson, Jersey Fishermen's Association president, said it was "an erosion of the rights of fishermen".
He said: "They have been fishing there legitimately for decades."
Mr Thompson added: "It is not as if we should be on our hands and knees begging for the right to carry on doing something we have been doing legitimately for decades and decades."
Sark's government was the first in the Bailiwick of Guernsey to sign an agreement with the UK, with Alderney and Guernsey expected to follow suit.
The agreement licenses UK fishing boats to operate within the three to 12 nautical mile zone around the bailiwick.
Dougal Lane, president of the Guernsey Fishermen's Association, described the move as a "very good deal".
He said local fishermen had been kept informed by the States throughout the negotiations.
However, he added: "Mostly we go along with the British and EU rules, so there's not too much to decide really."
Mr Thompson said: "What we don't want is to have to fight for fishermen's rights to carry on doing what they have been doing for decades, through the law courts.
"Fishermen are extremely concerned about this, our concerns have not been fully addressed yet.
"We do not want to have to take our fleet to Guernsey and have a show of solidarity there.
"We have about 50 full-time boats and, down to every last one of them, they have said we will do whatever we have to do."