Sadie Rennard wins Jersey constable vote in St Saviour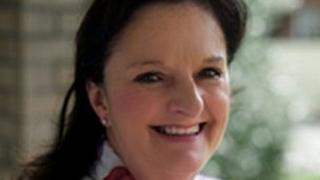 Dairy farmer Sadie Rennard has ousted the sitting constable in St Saviour Peter Hanning by almost 200 votes.
Mrs Rennard is known locally for singing "Beautiful Jersey" on Liberation Day on 9 May each year.
Reacting to the result she said: "It was a shock and it was very close but I have worked very hard and I've listened to a lot of people.
"It's a very large parish and there's a lot more that can be done to join it up."
Other big winners in the 2011 Jersey elections were Steve Pallett who won the constable of St Brelade seat from transport minister Mike Jackson.
And there was victory for Michael Paddock in St Ouen's first constable election in 108 years.
John Young is the new deputy for St Brelade, beating incumbent Angela Jeune, and Kristina Moore has been elected as deputy of St Peter.
Elsewhere St Saviour district three returned Roy Le Herrisier as Deputy, Patrick Ryan was elected as the St John deputy and Carolyn Labey returned as the Deputy of Grouville.
Education minister James Reed has held his deputy seat in St Ouen with a total of 808 votes.