Mystery as short-toed eagle is seen in Jersey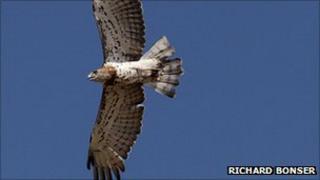 Bird experts say it is a mystery why a large bird of prey has come to Jersey.
It is believed the short-toed eagle has not been seen in the island before.
It is not known exactly how it got to the island as they do not tend to fly over water, but they do breed in France, to the south of Jersey.
Dr Glyn Young, the bird expert at Durrell, said there had been a few sightings of the bird which is larger than a marsh harrier or buzzard and soars high above them.
He said there had not been any breed of eagle in the wild in Jersey for at least a century.
Dr Young said: "It's had to cross that piece of water from France.
"Eagles don't like flying over open water because they use thermals to travel and they don't form over waters so I guess it's probably a young one."
John Farnom said he had seen the bird while walking up a back road near Vinchelez Manor in St Ouen.
He said: "I went back and told my wife 'this is the biggest bird that I have seen in Jersey' and people have been saying that it's an eagle."
Mr Farnom said it had a four or five-foot wing span and was a greyish colour.