New set of Jersey scenery stamps issued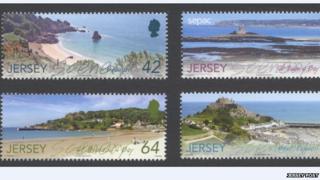 Jersey Post has issued a new set of stamps showing images of different parts of the island.
The set of six stamps is the third set in the "scenery" series by Jersey Post.
Like previous issues, the stamps are in a wider landscape format which Jersey Post said alluded to traditional picture postcards.
The places shown on the stamps are Beauport, St Ouen's Bay, Ouaisné Common, St Brelade's Bay, Mont Orgueil and Portelet.
The stamps have been created by Andrew Robinson, who also designed the royal wedding and orchids VII stamps issued this year.
Melanie Gouzinis, philatelic researcher at Jersey Post, said: "We learnt from our 2009 customer survey that stamp collectors particularly like to see our island depicted on stamps.
"Luckily we have a seemingly endless choice of landscapes to choose from."
Jersey Post is a member of the Small European Postal Administrations Corporation (SEPAC) which sets a theme and issues a folder with a stamp every two years.
The 49p St Ouen's bay stamp has been chosen for this and has the SEPAC logo on it.
Mrs Gouzinis said: "It has been important for Jersey Post to be involved in the SEPAC group.
"Our industry faces many challenges, let alone the gradual decline in the number of stamp collectors, and by being part of this international collaboration, we can learn from and enjoy support from our fellow members."