Cases involving former Jersey minister Stuart Syvret 'cost £384,000'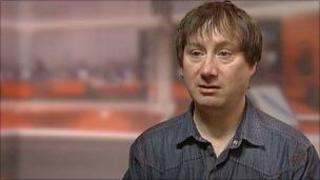 Jersey spent £384,000 in legal battles with the former health minister Stuart Syvret, the Attorney General said.
Timothy Le Cocq told the States Assembly on Monday that the money had been spent over the past two years.
Mr Syvret was originally charged - and later convicted of - data protection and motoring offences but went on to pursue cases against the government.
He said he had to explore every avenue locally before taking the case to the European court.
Mr Syvret said: "I suspect the amount is greater than that, but the most important thing that needs to be born in mind is that the entire actions taken against me by the then Attorney General William Bailache involved actions that were so manifestly unlawful - such as a 10-strong police raid and search without a search warrant - that I had to resist legally through every possible avenue."
The former minister was arrested and charged with breaching data protection laws in 2009 when he published personal information on his blog.
He failed to appear before magistrates and fled to England, which led to the contempt of court conviction.
When he eventually returned to Jersey, he was convicted of all the charges and because he refused community service was sentenced to go to prison for 10 weeks.
Mr Syvret had fines for data protection and motoring offences reduced to £1,400 from the original £4,200.
In August, he was ordered to pay £5,000 in court costs, half of the original £10,000.
Mr Le Cocq said the States had only retrieved little more than £7,000.
He said: "There were over 20 separate hearings in the magistrates' court taking 35 days in total, including an abuse of process application by the defendant, and his subsequent trial which lasted 13 days.
"Nine hearings in the Royal Court lasting some 15 days and three days in the court of appeal.
"Some cost orders have been made against the defendant and some have not yet been quantified."
Mr Syvret said: "The entire actions taken against me were a politicised malicious prosecution.
"I want to make Jersey's government become more responsible, so to do that I have to pursue these legal cases to the European Court of Human Rights in Strasburg.
"To do that you have to exhaust all local remedy first, not only has it been right of me to resist the politicised prosecution and political system of Jersey, it has been necessary for me to do it this way or the court in Strasburg would not entertain this information."