Jersey 'one of the safest places' in the British Isles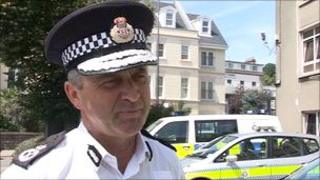 The States of Jersey Police said new crime statistics make the island one of the safest places in the British Isles.
The police's annual report showed crime fell in Jersey by about 7% last year.
More than 4,500 crimes were recorded in Jersey in 2010, nearly half of those offences were acquisitive crime - which includes theft, burglary, fraud and forgery.
The second most prevalent crime was offences against the person, such as assaults, harassment and child cruelty.
A third of grave and criminal assaults last year in Jersey involved people who knew each other.
The figures also showed three-quarters of cases of serious violent crime at night resulted in prosecutions.
The report also showed that road crashes which ended in fatal or serious injuries had risen from 47 in 2009 to 62 last year.
The report said the majority of crime in Jersey happened in St Helier, which police said was to be expected as it was the residential and business hub of the island.
In the most rural parishes, fewer than two crimes a week were reported.
In the police force's annual report the police chief, Mike Bowron, said since arriving in the island he had been impressed with the skills and professionalism of his officers.
He said he was committed to providing a friendly, approachable and professional police force.