Jersey Fire Service: Three escape bedroom fire unharmed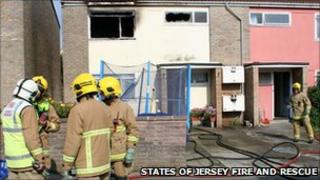 Three people escaped unharmed from a fire after an early warning from their smoke alarm.
A fire broke out in the bedroom of a home at Clos Gosset on Saturday, and threatened to spread to the roof.
Firefighters made sure the smoke did not affecte a neighbouring property, which was evacuated.
The cause is being investigated. States of Jersey Fire and Rescue has reminded islanders of the importance of a working smoke alarm.